Gan Shalom Cemetery
Gan Shalom Cemetery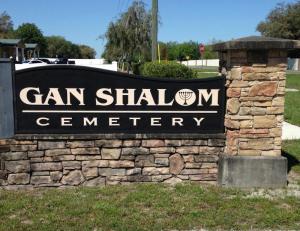 Gan Shalom Cemetery
Gan Shalom is truly a garden of peace. The cemetery grounds were designed by a national cemetery design firm in December 2000. The tree-lined drive leads to entry gates of stone and wrought iron. Passing through the gates one enters the cemetery grounds shaded by live oaks, palms, and pine trees. Seating areas are available for prayer or quiet contemplation.
The cemetery is being developed in phases. The first phase is divided into three garden sections: B'nai Israel Garden available to the entire Jewish community, Bet Olam open to interfaith families, and the Kol Ami Garden for members of Congregation Kol Ami. Acreage remains for future development. To ensure the Jewish traditions and laws appropriate to each section are observed, the cemetery is governed by rules and regulations and will be operated under rabbinical supervision.
Before your time of Need
It is advisable to purchase cemetery plots before the need arises. Making arrangements in advance allows you to consider this important decision with your family, free of emotional stress that can accompany a purchase in time of need. By purchasing in advance, you will have greater peace of mind and your loved ones will appreciate your thoughtfulness.
Purchasing a Plot at Gan Shalom
Tampa's Gan Shalom is one of the Jewish cemeteries in Hillsborough County that is designed specifically for the members of the Jewish faith and their families. It is distinctly different from a "Jewish Section" of a larger non-sectarian cemetery. Gan Shalom offers a large selection of plots for you to choose from. Each garden section offers plots suitable for upright monuments or flush bronze memorials. Plots are available as single or double graves, or family plots of three, four or more. The price of individual cemetery plots for members of Congregation Kol Ami is $3,000.00. The cost of an individual cemetery plot for a non-member is $3,500.00. For more information on purchasing a plot, please contact either Mercedes Martin at accounts@kolami.org or Mitch Weiss at execdirector@kolami.org
Perpetual Care
Gan Shalom maintains a Perpetual Care Trust Fund. This trust fund ensures a permanent source of funding for the maintenance of the cemetery plots in perpetuity. The perpetual care contribution is included in the purchase price; there are no future assessments.
Gan Shalom Cemetery is located at 3527 E. County Line Road, Lutz, Florida. To get directions from Google Maps, click .
Mon, October 2 2023
17 Tishrei 5784
Mon, October 2 2023 17 Tishrei 5784